Business 2 Community has once again posted a helpful article featuring tips for Search Engine Optimization. But this latest list is of particular interest to Pink Shark Marketing because of our special emphasis on working a local SEO company.
The article makes it clear that the local angle is under-appreciated in setting SEO strategy. That is, it point out that at least 70 percent of internet users search locally on a regular basis, and that the numbers are even higher for those on mobile devices.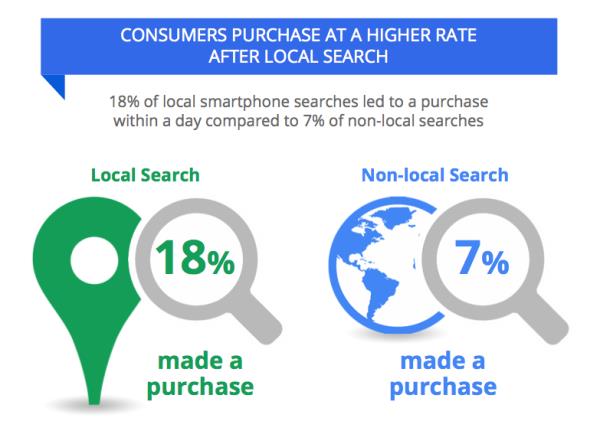 Source: business2community.com
And of those who use smartphones or tablets to search for local business information, 84 percent take action based on what they find. These figures help to make local searches twice as likely as general searches to result in a purchase.
This sets the stage for Business 2 Community to share some worthwhile tips on how to structure a local SEO campaign by utilizing local listing services, soliciting reviews, and so on. The author points out that "you don't have to be an SEO genius to get the traffic you need." But I would be quick to add that although that is true, it certainly doesn't hurt to work with one if you can.
It's a little disappointing to see that such a well-researched article missed out on one point that we consider to be a big deal: Hiring a local SEO company to help you manage your campaign. In addition to having advanced knowledge of all of the points raised by the article, a local SEO company will probably have a special awareness of the types of keywords, strategies, and social engagement that works best in the community you're positioned to serve.
And speaking of social engagement, Business 2 Community also advises that local businesses work on building a social following as a further driver of their local SEO. This speaks to another important factor to consider when hiring or partnering locally. If you're doing business in Los Angeles, you should strive to make contacts with an SEO company that is also a Los Angeles social media company.
Source: moz.com
There are definite local dimensions to both those aspects of online marketing, both of which are deeply interwoven and benefit from the same industry expertise and local body of knowledge. So while you don't have to be an SEO genius to make your campaign work, your odds of success increase with the right partnerships, just as they more than double when you move from a general to a local SEO campaign.
If you find someone whom you consider to be a local SEO and social media genius, then you're well on your way to an absolutely transformative marketing campaign.